The Centre for Polish-Russian Dialogue and Understanding in December 2012 launched a public opinion research programme in Poland and Russia.
Do the Poles think the Russians have a sense of humor? Whether for Poles, according to eastern neighbours, more important is the state, the family or freedom? What are the benefits for Poles, and what for Russians in connection with functioning of the Local Border Traffic? How we perceive one another and where are the main sources of misunderstanding and hostility? For these and many other questions the reports have an answer.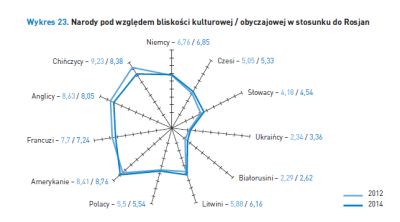 The reports are based on surveys conducted in Poland (by CBOS and ARC Rynek i Opinia) and Russia (by WCIOM). The results are enriched by comments and interpretations of experts, being one of the most important sources of knowledge about the social mood in Poland and Russian Federation.
The research program aims to:
provide reliable and valid data about the Poles' attitude to Russia and Russians, and the Russians' to Poland and Polish people, going beyond the the superficial approach of the subject,
allow monitoring of changes in social attitudes,
ensure the comparability of results obtained in both countries (by setting the same: duration of the study, methods of implementation and research tools).
Public opinion research: